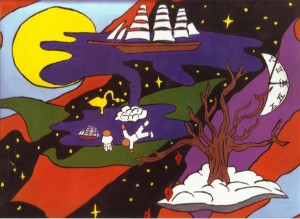 Continued from: Auras: Part 1 — Mother Night
I awoke to a screaming alarm clock. This generally fills me with dread. But this morning was different. This morning felt good. This morning had purpose. I was eager to get this whole thing over with. I was eager to help.
I turned off the alarm and I made my way to the bathroom. The bathroom light was one of those obnoxious fluorescent bulbs that desolate the room's landscape like a nuclear blast. I hate seeing my reflection in that atomic light. I can see my skull, each bone's structure, the grinning teeth, the deep sockets. When I can't see my skin like that, it makes it very difficult to shave, and I usually cut myself.
I harvested my beard, watching the massacred stubble turn to ants and scurry down the drain, and then I took a shower. There's few things I enjoy more than a hot shower—the torrents of water exploding on my skin, the echoing sounds. It's the most relaxed I am. Something about the water enveloping me, it's my sanctuary. I used to like baths, submerging into the water, the world gone outside this womb, but I stopped taking them when I almost drowned.
I spent longer in the shower than usual, thinking about what I had to do. Although I knew it needed to be done, I didn't necessarily want to do it. But it was really for his own good, and I wanted to help. It had gone black, and how could anyone live like that?
After finishing my morning routine, I left my apartment for work. The day was a whitewash of sunlight—which I love. It really brings out people's auras. The first person I passed, this very pretty, middle-aged woman, had a glorious, pink aura. I said, "Good morning." She said, "Good morning." The exchanging of pleasantries has become a rarity, but courtesy is still the habit of mine.
I had to leave the sunshine for the subway. I enjoy first entering the subway, stepping through the turnstile, the clicking, spinning bars—I feel like a mechanism in a machine—but then I have to go down into the dank tunnels, and this I hate, breathing the air of exhaust, dirt, filth, urine. I scurried to the inbound platform and I watched the mice dart between the rails. One mouse stopped and looked up at me, face twitching, body quivering, a living bundle of panic, tangible neuroses. I stared back at him, feeling he had something to tell me. Maybe he knew something I didn't. Maybe he was panicked for a reason, and the rest of us should be too. But then I realized, staring into his black eyes, that he knew where I was heading, and what needed to be done, and I think this realization calmed us both.
The train ricketed into the station, its breaks shrieking, and the mice disappeared beneath the giant steel container as it rocketed by. The container burying all of us gathered on the platform in warm, stale air. The woman standing beside me, her hair became writhing snakes, gnashing and biting at each other. As the train nestled to a stop, the snakes settled, dormant again. But dormant or not, I wasn't going to sit anywhere near her.
The doors of the train hissed open, and when we were all safely in the car, they hissed shut. The conductor came over the loudspeaker, announcing the train's destination. Sometimes he just talks gibberish, or even says horrible vulgarity like: you fucking clit. There's no reason we should be exposed to that kind of language. I keep meaning to complain, but who would listen? Vulgarity is just a way of life.
I try to avoid sitting across from a window. I find the reflection of my face, hanging ghostly, seemingly decapitated through the speeding dark, disconcerting. This day, I didn't have a choice. The only seats open were directly across from windows. I decided one of these seats was better than hanging from the handrails, swinging like a monkey each time the train lurched to a stop or start.
The train started forward, and through the windows, I watched the platform's billboards flash by like a flipbook. I'm often nauseated on subway trains—the smell, the lack of air, the alien light, the horrible, rattling racket of wheels on rails, the sounds of people's conversations settling over the whole train, yanking us all, unwilling, into other lives. Occasionally, I might hear something interesting, but most of the time, it's useless white noise, dead signals on televisions.
Sometimes someone will try and strike up a conversation with me, speaking to me in some jumbled mess of a language. Then they'll look at me like I should understand what they're talking about. Imagine that. It's not that I don't like other people, in fact, I love to watch them, it's the best way to pass the time, although some passengers become somewhat wary, and even downright belligerent, if you watch them for too long. Sometimes they'll even yell at me.
An old woman sat across from me. She wore a battered dress with many faded flowers fastened to the worn fabric. Her eyes swam in giant, thick glasses like fish in fishbowls, and her hair was a torn cotton ball of white wisps. The skin on her legs drooped, rolling down her calves, bunching at her feet. Her aura was a dull, worn blue. She was lonely, probably spending the majority of her time fastening all those old flowers to her clothing.
A youth sat two seats down from the old woman. He crossed his arms on his chest like safety belts. A Yankees hat was pulled down defiantly over his intelligent, bright eyes. Those eyes peered from his dark skin like the eyes of the Cheshire Cat. His aura was confused, as if he wanted to be angry, but didn't have the heart to be.
A tall, thin creature sat in the train's back corner. He had a feeble mustache and long, greasy hair. He was vulture-like. Especially his eyes. No irises, no whites, completely black, shining in the artificial light, darting, searching for more things to hate. His face was a pockmarked graveyard of acne, and his aura was inky brown smog. I didn't want to watch him for too long. He was the type that says: What're you lookin at?
I heard a bird singing. I turned to find a man holding the bird to his face. He talked to it in a booming voice, taunting it, laughing at it. He liked himself very much, sitting in his suit and tie, with his well-fed body and cropped hair. He laughed at the bird, bid it goodbye, and stuffed it into his pocket.
The train burrowed through the darkness, slowing, stopping at another station. The doors opened. More passengers flowed onto the train. A young man with a guitar case. Three young girls giggling. A solid, tall woman in a business suit, her appendages slabs of meat—no distinction between wrists or ankles, her arms and legs just becoming hands and feet. A chime like a doorbell reminded people to hurry, and as the conductor said in a sharp whisper, here she is, a girl jumped onto the train before the doors shut like guillotines.
The girl sat across from me, setting a leather bag beside her feet and folding her hands in her lap. She wore a fashionable outfit. Black pants, blazer. Her white shirt unbuttoned just enough to elongate her already long neck. Her eyes were blue jewels. Her cheeks quivered with the anticipation of dimples, and I knew her teeth would just explode from that mouth in a dazzling smile. I longed to see her smile.
Her aura glowed golden, its brightness darkening the rest of the train. She seemingly floated toward me. She was an angel, and I felt the static rush through my body, tingling every nerve end. I looked away, understanding why people in bible stories averted their eyes from angels and the sort. I caught my breath and looked again. She glanced at me a couple of times.
"You're very beautiful," I told her.
She smiled, not a full smile where I could see those marvelous teeth, but a pressed ghost of a smile, her dimples flexing ever so slightly. "Thanks," she said, but her golden aura flickered, and her eyes darted for something to watch out the window.
My heart raced. Beads of sweat broke out across my brow.
"Don't be frightened," I said. "I'm not hitting on you. I just felt like paying you a compliment."
"Okay," she said, careful not to make eye contact with me.
"Honestly, I mean, you're just really pretty," I said.
"Fine," she said, as if talking to me was some huge chore.
I looked at the other people. The old lady regarded me with her enormous fish eyes. The youth glanced at me and looked away. The man in the suit talked to the bird again, looking at me with a cocky, knowing smile. And the tall, thin man with the black eyes stared at me. A raptor in a tree, his eyes didn't miss a thing.
My heartbeat was in my stomach. My brow perspired. The train shrank as it shot through darkness. I felt a flash of anger, but it quickly passed.
I discovered the girl was no angel. The golden aura was a fraud, its radiance fading to a sickly yellow-green. Funny how beauty can make one seem beautiful. Thankfully, the train came to rest at my station. As the doors slid open, the conductor growled over the speakers: Get out! And so, I did.
I passed the girl, and I wanted to tell her that I knew she was a fraud. But I didn't. Why give her more reason to think people care?
When I exited the train, the tall, thin man swooped out of the other door, and with a flash of his black eyes and a smile of tiny piranha teeth, he mumbled, "Way to go with that chick, dickhead." He disappeared into shadows. At times, I wonder if certain people are even human.
Continued in: Auras: Part 3 — Getting to Work