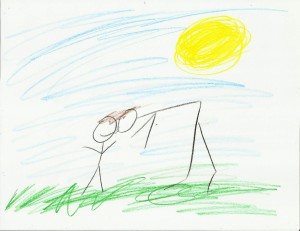 Continued from: Howdy Neighbor: Part 3 — Best Laid Plans
"Look, Bart, I have no idea what you're talking about, please, just listen to…"
"Shut up," Bart said. His hand tightened on the grip of the revolver. "Just shut up, you sick, twisted…"
"Bart, I…"
"Did I not just tell you to shut up?" Bart nuzzled the revolver's muzzle into the back of Sam's head. They stood on the edge of the jetty at the mouth of the eastern end of Mystic Island's harbor. The only illumination was from the blinking red light marking the jetty's tip. It flashed, like a slow, solemn strobe on the black expanse of water around them.
Bart had relished the expression of surprise on Sam's face when Sam first noticed the gun. They were riding down Hemlock Street in Sam's car, Bart in the passenger seat with the revolver placed casually on his lap.
"Whoa, Bart, man, what's that thing for?" Sam asked. His tone jovial, but his voice shaky.
"Take a right here," Bart told him.
"Okay—" Sam said, elongating the word, confusion more evident in that word than fear. But when they pulled into the dark seclusion of the back roads behind St. Sebastian's, hugging the coast past Demon's Point and out onto Harbor Point, fear bought out the confusion in Sam's voice. And now, on the edge of the jetty, with the gun to Sam's head, Bart no longer wanted to see the expression on the man's face.
"How could you do it?" Bart asked him, digging the muzzle into the back of Sam's head. "How could you do it?"
"Do what, Bart?" Sam's voice trembled with the effort of staying calm, the effort of keeping his tone conversational.
"Didn't I tell you to shut up?"
Sam let out a heavy sigh. Bart didn't need to see the man's face to know he was crying.
"It's time to make peace, pal," Bart said, "Just admit to doing it, that's all you need to do."
"Bart, like I said, I don't know…"
"Did I tell you you could talk?" Bart said, raising his voice and thrusting the muzzle forward. "Answer me. Did I tell you you could talk?" Bart was crying now, too. "Answer me."
"No, Bart, you didn't," Sam said.
"I said shut up!" Bart screamed, and his bladder let go, warm urine trickling down his leg as he pulled the trigger.
Sam Freeman had disappeared. The police found his car parked at the Islander Health and Racquet Club. The Mystic Crier reported that no one even remembered seeing him leave. And, most likely, no one would ever know what happened to him. In fact, aside from Sam being dead, even Bart didn't know what happened to him. I, however, do know what happened to Sam. His body fell into the water, became waterlogged, sunk a few feet below the ocean's surface, at just pre-dawn, it was caught on a fishing boat's trawling line, the line being accidently cut when further out to sea, breaking free before the fishermen knew there was a body on it, and Sam sank with the rest of the line's tackle to the bottom of the sea, becoming a meal for several crustaceans.
That's what happened to Sam's body. What happened to his soul is more complicated. Some people believe there is a place called "Hell." In this place, people believe that bad things happen to people that did bad things during his or her life. I can attest that this place does exist, and the real Hell is not that far from how many people imagine it to be. I can also attest that Sam's soul did not end up there. Be that as it may, every night, Bart thought he could hear Sam screaming in Hell, Bart thinking he could hear as the Malebranche sunk their hooks into Sam and dragged him from the bubbling pits to dismember him. Sometimes, Bart couldn't take hearing Sam's screaming, and he would pace the downstairs of his house, glancing out the window to the house down the street. Sometimes Bart wondered if he was going to someday join Sam in the bowels of Hell. But other times, when Bart heard the screams, he slept like a baby.
It was Christmas morning. Bart sat on the living room couch as the guests arrived for Christmas dinner. Bart had barely slept the night before. Like a child straining to hear sleigh bells, Bart was kept awake by silence. He heard no screaming, and his thoughts were fixed, not on Sam Freeman, but on Sam's daughter spending Christmas Eve without her father. And now, Bart was barely able to raise himself from the couch to greet his parents, his in-laws, and…
"Mr. Tickles," Olivia screamed with the glee reserved for such characters as Mickey Mouse and Santa Claus.
Bart's eyes grew wide. At first, he thought he had imagined his daughter's scream. But her giggles broke him from the daze, and Bart stood from the couch and rushed out to the hallway, where his brother Jimmy had Olivia in a bear hug. Uncle Jimmy kept thrusting his face at his niece, calling between laughter, "Look out for Mr. Tickles. Here comes the tickler."
"See," Amelia said to Bart, appearing beside him, "Mr. Tickles was just Jimmy's mustache. I told you it was nothing."
The End