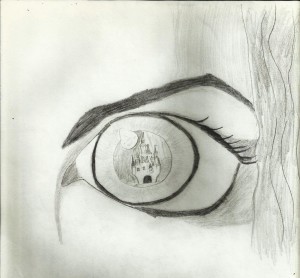 Continued from: Earworm: Part 14 — Fun-Fun-Fun
Awesome.
That was Hope's thought, stretched on her bed in the dark, reflecting on her first official "date" with Joel Fitch. An occasional autumn breeze blew in drifting bursts, rustling the leaves of the giant oak outside her window like children spinning pinwheels with puffs of breath, and as it did, she found herself thinking the same thing over and over. He's so awesome.
When she and Joel had walked into the bright floodlights of Putt-n'-Fun, she wanted to slip her hand into his, but she didn't dare do it. Not yet. "So, what do you want to do?" Joel said, his attention transfixed on the floodlit bustle of miniature golf, go-carts, bumper-boats.
"I'm up for anything," Hope said.
"All right. How about miniature golf?"
"Except golf," Hope said. "I'll do anything but play miniature golf."
The grin fluttered from Joel's face. "Oh, okay," he said, his blue eyes glancing toward the miniature golf course. "Um, then let's…" he looked around at the different activities, running his fingers through his thick, sandy hair.
"I'm kidding," Hope said. "I'll play golf. But I've got to warn you, I'm not that good at it."
"I'm sure you'll do fine," Joel said. He placed his palm on her lower back, and she leaned into his touch, feeling a quiver of nerves run up her spine like a finger across a keyboard.
They started up the walkway to the golf course when they bumped into Joel's best friend John Gardner and Hope's friend Tara. John was known to all as "Guard"—not only because of his name, but for the position he played on the football team. He and Tara just happened to be conveniently hanging around the golf course, and Hope realized that Joel had probably recruited Guard as a wingman. Joel most likely talking his friend into this by suggesting he invite Hope's best friend, Tara, who Guard thought was "scorching hot." But Hope had a hard time imagining Tara and Guard as a couple. Guard stood about six-foot-five, weighing well over 250 pounds, his brown hair a mess of bed-head as if he was perpetually waking from a nap. His movements were slow and awkward, as if he never quite got used to his size. Tara, being so tiny, looked as if she might begin to orbit him at any moment.
As soon as Tara saw Hope, she shot at her as if fired from a cannon. She dragged Hope down the walkway as the boys went to rent the putters and golf balls. "Oh my God, Hope, he is driving me fucking crazy," Tara said, hanging on Hope's arm.
"Who?"
"Who do you think?"
"Guard?"
"He is so dumb," Tara said, before rolling into a tangent about how every little thing Guard did was "just to piss me off." As Tara rambled on, Hope glanced at the two boys standing in line for the clubs. Joel caught Hope's glance. He grinned. She smiled. "Isn't that unreal?" Tara said.
"Can't believe it," Hope said.
When the boys returned with the golf clubs, Hope took a putter from Joel, their eyes lingering on one another.
Tara refused the putter from Guard until she was fucking ready to use it.
They took turns knocking the different colored balls along the fake turf, Hope missing her first few putts. Joel then leaning over her shoulder, nestling behind her, wrapping his arms around her, his cheek against hers. He guided her hands on the putter's end, swinging its pendulum motion to sink the ball. "See," he said, speaking into her ear, "you've got it."
Guard tried to help Tara in the same manner, but ended up with the hilt of her club in his gut.
As Putt-n'-Fun approached closing time, and the people left in scattered droves, Joel stopped at the Football Toss. The attendant handed him three footballs. Joel fired three spiraling strikes through the circular cutout, and the attendant tossed him a small, lime-green teddy bear. Joel handed it to Hope. "Didn't want you to leave empty handed," he said. And as they left through the park's front gate, Hope laced her arm through Joel's arm, placing her head on his shoulder.
When they pulled up to the front of Hope's house, Joel walked her to her front door. They stopped under her house's front light, and Joel asked if he could kiss her goodnight. "Of course," she said. He leaned in—she felt his breath, his warmth, she sensed his energy—and they kissed.
The wind blew the leaves of the oak tree outside her window. Hope rolled onto her side, looking at the small, lime-green bear, now leaning against the pillow beside her. She smiled, thinking, He's so awesome.
Continued in: Earworm: Part 16 — The Place
If you like what you read, please vote for us on topwebfiction.com .