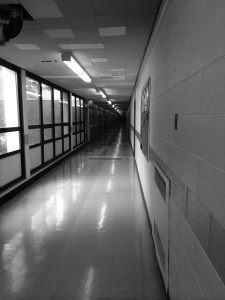 Mysterious "Creatures" That Terrorized Students May Have Been Mass Hallucination
Police and school officials are baffled after a student vanished during a lockdown at the Mystic Island Middle School. Jacob Grist, an eighth grader at Mystic Island Middle School, disappeared "into thin air" during the emergency lockdown at the school, police said. The school was put in lockdown because of an apparent "hallucinatory incident."
Dispatchers received a 911 call from the school around 8:00am. The caller, one of the school's secretaries, reported that "creatures had overrun the school." She went on to describe the creatures as "giant dogs," "skeletons and zombies," and a "gorilla." Upon arrival at the scene, Police Officers Jordan Raymond and Andrew Mann confirmed that there were apparently "creatures terrorizing the school."
"It was unbelievable. Literally unbelievable," Officer Mann said, "I know it sounds crazy, but I was fighting off skeletons and zombies. I had to rescue several of the children from their grasps."
Officer Raymond and the school's art teacher, John Berkley, ran through the halls to direct students to safety. They reportedly came upon Jacob Grist and another student, Tommy Rogers, being terrified by what appeared to be a gorilla and a wolf. When Officer Raymond drew his gun, the creatures and Jacob Grist vanished. Tommy Rogers fell to the floor with apparent chemical burns from a magic marker someone used to draw on his arms and torso.
Police Captain Gerald Orvac said, "Needless to say, we are still trying to determine exactly what happened, which seems, at the moment, to be an impossible task. We can only assume that this was some sort of mass hallucination."
Paintings of the creatures were found on the floors throughout the school. "Chemical analysis of the creatures show they are comprised of common acrylic paints," said Captain Orvac, "but they are proving to be very difficult to remove from the floor. We aren't sure what the paintings represent. Maybe, if this was a mass hallucination, they served as some kind of suggestive catalyst."
Investigators from the FBI and Homeland Security were called in to be sure the event was not a terrorist chemical attack, but they could find no evidence of any chemical residue.
"I have no explanation at all for what happened," said Principal Michael Cooper. "All I know is that I saw monsters attacking the school. And there must have been some kind of mind-altering property to whatever caused the incident, because I know I reacted in a way very unlike myself during a lockdown. I had a definite rare moment of confusion."
Police are still searching for Jacob Grist. Police said that Jacob's step father, Dennis Walsh, died of a self-inflicted gunshot wound two days prior. Captain Orvac said, "We are not sure if Dennis Walsh's death is in any way connected to Jacob's disappearance at this time. The circumstances surrounding his step father's death are still vague, but we can't rule out that some kind of hallucinatory agent could have been involved in that too."
Jacob's mother, Joanne Walsh, is pleading with the public to provide any information at all that could lead to finding her son. Jacob is diagnosed with Asperger's Syndrome, a form of autism. Police urge anyone with information on the incident at the middle school or to the whereabouts of Jacob Grist to call them immediately.