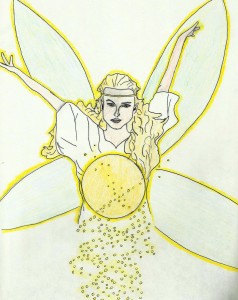 Continued from: Quest For Dreaming Mountain: A Fairy's Tale — Chapter 9
The force of the water pounded Belinda deep below the surface. Belinda saw only clouds of bubbles and heard only her own thrashing. She bobbed to the surface, her arms and legs flailing, and the current raced her downstream. She coughed and gasped and tried to swim to the river's bank, but her tiny body could not fight the river's course. Her drenched wings were pasted against her back. The final, insignificant spot of fairy dust was clumped, wet and useless, in her bag.
A fallen branch reached into the running current. Belinda grabbed it and pulled herself toward the river's bank, almost making it to safety, but the end of the branch broke off, returning her to the mercy of the rushing stream.
Holding the broken branch, she wove down the river, her mouth filling with gulps of water every time she tried to take a breath. Ahead of her, rocks jutted from the water's surface. The river bubbled and churned, water splashing in explosions of spray.
The fairy plunged into the white waters, rushing between rocks, the river trying to peel her from the branch. The branch veered down a tributary, and Belinda held tight, her legs hanging limply in the water behind her.
The branch caught between two rocks, stopping short, and Belinda was forced to let go. She thrashed under water, helpless as a lightning bug shaken in a jar. She found it hard to hold her breath as more and more water forced its way into her mouth and nose. Whenever she broke the river's surface, she was immediately yanked under again.
Finally, the rapids eased, the rocks dispersed, the white water subsided, but Belinda still found it difficult to keep her head above the surface. Her muscles ached. Her lungs burned. Her head pounded. She wanted to stop and rest, but there was nowhere she could. Her body felt as if an anchor was attached to her ankle. Through blurry eyes, she spotted an outcropping of land jutting into the river. Belinda reached it and crawled up the riverbank to safety.
Belinda collapsed onto the ground. The sun beat down on her. She felt her energy evaporating, the sun draining her powers as the queen had warned. Belinda needed to return to Dreaming Mountain and replenish her light.
She staggered to her feet. The bright colors and kaleidoscopic movements of her dreaming eyes were beginning to fade. She felt dizzy and tired. She tried beating her wings, but they sagged behind her. She peered into her broken bag and found nothing in it but a tiny patch of caked, gold mud. Belinda walked along the river's edge, deciding that if she couldn't fly home, then she would walk, no matter how long it took. But her body ached, and she was exhausted.
Be wary of frogs. Don't get wet. Do not allow your magic to fall into the hands of others.
Being a fairy was more than beauty and magic. Fairies had as much responsibility as any other creature. Her friends in the forest were right, their friend was gone, and all that remained was a fairy that couldn't perform the simple tasks of everyday fairy life. The determination to walk home, no matter how long it took, drained from Belinda. For it is an elf that is stubborn, not fairies. Belinda sat on the ground and cried.
As she sobbed, she heard a rustling from the woods. She looked up to see an owl standing beside a giant elk. The two animals silently regarded the weeping fairy.
Belinda could not recognize the two creatures. They looked to her simply as animals, an owl and an elk to be exact, no different from any other. But deep in her heart, she knew who they were.
"Aristotle? Goliath?" Belinda whispered.
The two animals watched her with the blank stare of "unthinking" creatures, but Belinda knew of the owl's wisdom, and of the elk's devotion, and she knew she would never realize those wonderful qualities again. Belinda rolled into a ball on the ground, crying harder.
Something nudged her. Looking up, she found the elk nuzzling her with its massive snout. He was silent, his thoughts muted from her, but he would always be her friend.
Belinda then looked to the owl. "Aristotle, what should I do?" she said.
"Who. Who," the owl answered in the voice all owls use to those that cannot understand them.
Belinda cried harder, putting her face in her hands. "I'm no fairy. My heart is that of an elf. It always has been. The only magic I need is that of my friends' love."
The elk nudged her again.
Belinda looked up through a prism of tears, seeing a flurry of glowing balls rise from the ground like sparks from a fire. The balls combined into a bright flash of light, and there, before Belinda's eyes, stood The Fairy Queen.
"Don't cry, Belinda," the queen said.
"Your highness, I have failed at being a fairy. I have been unable to follow the rules and laws that govern your magnificent culture," Belinda said.
"Belinda, my dear child, how could you ever expect to follow such rules? They are rules for a fairy. You are an elf. You have not failed, you have merely learned."
"Then it's not too late to be turned back into an elf?" Belinda asked.
"Belinda, you have always been an elf in your heart," The Fairy Queen said. "But," the queen said, "before I return you to your elf body, you must follow three laws. Number one: you will recall no knowledge of fairy magic, nor the entrance to Dreaming Mountain, and you must never attempt to rediscover them. Number two: You must remember that each creature is different and unique, and you must always respect and honor that fact. And number three: You must respect and honor yourself, and remember to look for your beauty in your heart. Do you understand the meanings of these laws, and the importance of them?"
"Yes," Belinda said. And she truly did understand!
"Very well, then," The Fairy Queen said, raising her arms.
Tiny fireballs engulfed Belinda in a ball of light, and when the light vanished, Belinda was in her old, familiar body.
The Fairy Queen smiled, and with a sweep of her arm, she turned to bright light, shattering into millions of starbursts that faded into the daylight.
"Welcome home, Belinda," said Aristotle.
Belinda turned to face the owl and the elk, which were now clearly her friends Aristotle and Goliath.
She scooped the owl into her arms, "I'm glad to be back," she said.
"I missed you, Belinda," Goliath said in his low voice, his eyes looking down at the ground in his shy manner.
Belinda latched onto his thick neck. "I missed you, too, my friend. But most of all, I missed myself."
"I'm glad you finally came to your senses," said Aristotle. "Now, come along, there are many friends that wish to welcome you home."
And as the three friends walked deeper into the Great Forest, the trees were happy to have their elfin friend returned, and the leaves above clapped in applause.
The End