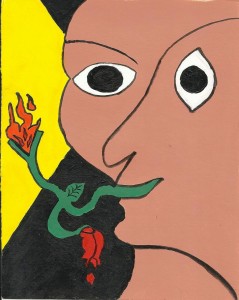 Continued from: Auras: Part 2 — The Mission
I climbed from the subway, born into a blinding, bustling world. Traffic crept by on the streets like waves perpetually searching for a shore. The sun burst off the car's windshields with electric spider webs, cooking the smoking, screaming people inside. A bus lumbered past with a rumbling, nasal whine. A billboard on its side advertised co-anchors of the local news station. The co-anchors spoke to people waiting on the curb, just like they do from the television. The female co-anchor looked at me and winked.
I came to a homeless man and woman scrunched up against a building. The man had a long, grimy, salt and pepper beard that grew into his mouth for lack of teeth. Eyebrows crept, like undergrowth, across his forehead, and thin, dead eels hung from beneath a tattered, green ski hat. I could smell the eels rotting in the sunlight. The man raised his head and regarded me with eyes that looked inward, instead of out. The woman was short and squat, her skin a sickly tan, more filthy than sunned. Her hair was a tempest of waves, roaches and maggots scampering in and out of the curls. She looked at me with white eyes—she had no eyeballs at all—and her smile was missing the top teeth. She and the man had no auras. I knew immediately that they were oracles.
"Help," they both said. "Help those in need."
"I am going to help him right now," I said. "It's black, and I have to do something." I then thanked them for their prophecy and moved on.
I came to my workplace. A long warehouse nestled into the city like a sleeping giant. The sign in front hovered in the air. How they get it to do that, I'll never know. A tree is planted on the edge of the sidewalk, and it always reaches for me when I pass it. This time I dodged it, almost running into another person. When I felt the tree tap me on the shoulder, I gasped and ran into the building. I'm not afraid of the tree, but if it ever caught me, I'd feel foolish asking someone for help.
I punched in, and walked directly into the main warehouse. I wanted to get right to it. The warehouse was a space of echoes and noise. Forklifts lifting pallets and crates, men loading cargo into giant trucks. My co-workers don't like me much. I think it's because they think that just because I went to college, I think I'm smarter than they are. Sometimes they say things behind my back. I greeted two of them, "Hi, Pablo. Hi, Henry," with a smile.
They leaned against boxes, talking. They stopped and looked at me. Pablo was a wiry man, twice as strong as he looked. Henry was short and wide, his chest hair growing from the sleeves and neckline of his tank-top-t-shirt. Pablo calls it Henry's "wife-beating shirt." But I don't think Henry's married.
I leaned toward Pablo. He leaned backwards, as if he thought I was about to kiss him. I smiled and picked up the crowbar leaning beside him.
"Have you seen Mr. Finney?" I said, dangling the crowbar at my side.
"Ya, he's down at the north dock," Pablo said in his rapid-fire voice.
"Actually, he might be in his office," Henry said, his voice grinding like gravel.
I thanked them and headed for the north loading dock. A forklift drove past me. On the front was a box reading: Human Heads. I sometimes wonder what happened to the world.
I reached the north dock and looked around for Mr. Finney. I didn't see him. I made my way over to Bill. Bill was a kind of foreman. He was old, like Vietnam War era. Built like a bull, often challenging workers to arm wrestling contests. His hair was thick and white, but his scraggly eyebrows were jet black. "Have you seen Mr. Finney?" I asked him.
He glanced at the crowbar dangling at my side—I'd forgotten I even had it—and said, "No, why?"
"I just wanted to talk to him."
"Check his office."
"I was going to." I smiled.
"What are you doing?" he said, glancing at the crowbar again.
"Nothing. I just got here. I wanted to get right to it."
He nodded, looking at me suspiciously—he always looked at me suspiciously—and I walked off toward Mr. Finney's office. Another forklift passed, and I inhaled the exhaust. That's the worst thing about warehouses, the choking air of the forklifts. A lot of guys go outside for cigarette breaks—there's no smoking in the warehouse—but I go out for air breaks. Others cram their lungs with more chemicals, while I try to expel the chemicals from mine.
As I approached Mr. Finney's office, I heard a baby crying. I really don't want to know what is in some of those boxes. I knocked on the office door.
"Yeah," Finney called from inside the office.
"Mr. Finney?" I called through the door.
"Yeah."
"Mr. Finney, can I talk to you?"
"Yes."
"Mr. Finney can I…"
"For Christ sakes, come in."
I stepped into his office. It was a sterile, white room. The only things on the walls were a bulletin board buried under layers of tacked pages, and a calendar with a picture of the Alamo on it. I think last month was Mt. Rushmore. In fact, I know it was Mt. Rushmore. I remember coming in once, and Roosevelt wouldn't shut up. Mr. Finney sat behind a banged up, metal desk, like the ones teachers use. His stomach was a perfect sphere, as if he was born a ball that the rest of him just kind of sprung out of. His eyes were beady and guppy-like, and his face was a landscape of rolls that sometimes pulsed. He wore a bright yellow hard hat. We're all supposed to wear them, but he's the only one that ever does. I figured I'd aim for the spot between the neck and shoulder.
"What do you want?" he barked, looking up with weary annoyance.
His aura was a starless night. I gripped the crowbar, holding it in two hands, lifting it waist high. He glanced at it and then at me. He stiffened, but there was still no change in his aura.
"Can I help you with something?" he said, his voice taking a softer, unsure tone.
I was smiling. I felt good. Happy. Glad to help. There was a seemingly long silence as I continued to smile and hold the crowbar with two hands. His eyes flashed to the picture on his desk. It was a picture of a girl of about ten with thick chestnut hair and lively blue eyes. It was a shame when she lost all that hair.
I saw a fleck of light in his black aura, a candle's flame in a breeze. It flickered and winked out again.
"How's she doing?" I said, nodding at the picture. I wasn't smiling anymore.
I saw that flicker again, but this time it didn't wink out, instead, it brightened slightly. "Not great, but better," he said.
"It must be hard," I said.
"Yes, it is." His blackness still danced with a tiny candlelight. "But you just got to hold onto the hope."
I looked down at the crowbar in my hands, and then I looked at him again. "Yeah, I suppose hope is enough," I said.
"Was there something you wanted?" he said. His palms flat on his desk, as if trying to keep it from floating away.
"No, I guess not," I told him, lowering the crowbar to my side.
"Okay," he said dumbly.
I turned and left his office, and as I walked into the echoing noise of the warehouse, I let the crowbar drop from my hands. It made a loud clang on the concrete floor. I looked down and saw it turn into a black snake and slither away.
The End