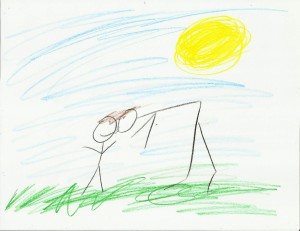 Bart Robbins's reaction was a standard physiological response. His blood rushed from his extremities and pooled in his vital organs. His heart pounded like a bass drum. His head felt like an expanding balloon. His adrenal glands released an obscene amount of adrenalin. His thinking reverted to flashes of instinctual impulses. This physiological response is known in the science community as the "fight or flight" instinct. At that moment, Bart could have probably outrun a high school track star or maybe even have throttled a man to death with his bare hands.
Bart Robbins wanted to do the latter.
Somewhere along the evolutionary chain of human existence, after humans no longer had a need for fleeing from Saber-toothed Tigers and giant Wooly Mammoths, the fight response of this "fight or flight" instinct overrode the flight response. This overabundance of the fight instinct developed into what we know as rage. Rage developed into vengeance. There is no functional, biological need for vengeance, yet still, humans developed it. There was no functional need for the Pet Rock, yet still, humans developed it. Imagine that.
What most people may find amazing is that this response in Bart was brought on by the playful giggles of his four-year-old daughter, Olivia.
Love is another emotion with no real function. Like rage, love can also undermine a human's lucid thought process. And it was love for his daughter, and the very thought of someone harming her, that propelled Bart into, first, a silent, panicked rage, and then into thoughts of vengeance. Bart Robbins was going to kill whoever Mr. Tickles was.
"Olivia, who is Mr. Tickles?" Bart asked his daughter.
"He's my friend," Olivia said.
Bart glanced down at his daughter's drawing again. His initial response when first seeing her drawing had been his standard response to all of her artwork. "Oh, it's wonderful," he'd said, trying to piece together the shaky lines and the scratched scrawls of crayons into a recognizable subject matter. "It's…" The yellow ball in the top corner was clearly a sun. Which made the green band fringing the bottom grass. It was definitely a landscape scene. "It's um…" There was a fagot of bunched lines jumbled into what looked like bodies. "It looks just like a…" Was it an animal? A horse maybe? Or an elephant? No. There were two round oversized heads precariously perched on stick figures. They were people. One oversized head on a tall body meeting an oversized head on a small body in what looked to be a whisper… or a kiss. "It's…" Bart's eyes narrowed as he more closely inspected the figures.
"It's Mr. Tickles!" Olivia cried with laughter.
"And what is it exactly that Mr. Tickles is doing here?" Bart asked. His voice was as shaky and unsure as his daughter's drawings.
"He's tickling me," Olivia said, holding out her arms in a well, duh, manner.
Bart choked on his next question as if the words were a noose. "Olivia, how is Mr. Tickles tickling you?"
"With his tickler," she cried with laughter.
There is an expression that is used to describe rage. That expression is: "seeing red." Although this expression is most likely derived from a bull's reaction to a red cape, it does seem, when one becomes enraged, that the world becomes enveloped in a red sheen. This red sheen can become opaque over a person's thoughts. When his daughter showed him her picture of Mr. Tickles, Bart Robbins saw red.
Continued in: Howdy Neighbor: Part 2 — Mr. Tickles