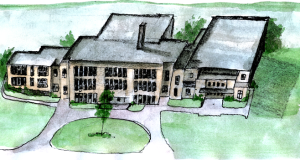 Continued from: With Drawn: Part 21 — The Second Mural
Principal Cooper walked into the Mystic Island Middle School gymnasium. On the far side of the gym, Jacob Grist was standing on scaffolding. The custodian had set up the scaffolding so that Jacob could work on his mural. Jacob was painting the mural on the wall above a row of doors that led outside to a parking lot. This way, John Berkley had said, the mural would be the final image everyone saw as they left the sporting event they were attending, and so it would be more apt to stay with them.
In the center of the mural was an enormous football player. The football player was in a three-point stance. This meant that he was bent over and had both his feet and a hand planted on the ground. Football players lined up like this so that they would have more leverage to clobber an opposing player. Across the football player's barrel chest, on his uniform, was this: MYSTIC WOLVES #1.
Positioned around the football player was a team of basketball players. The players were in various defensive and offensive poses. Jacob had researched online how basketball players would be positioned. He did the same for the football player.
On the left side of the mural was a baseball player in the follow-through of a pitch. On the mural's right side was a batter about to hit a baseball. Jacob didn't have to research baseball players to know what they'd look like. Baseball was Jacob's father's favorite sport, and Jacob used to watch the games with him. Jacob didn't care much for the game, but he did like to calculate batting averages in real time, impressing his father by calling out a batter's statistics before they were flashed up on the television screen.
Leaping from the top of the mural, as if toward the viewer, were two snarling wolves, and above these wolves were the words: HOME OF THE MYSTIC ISLAND WOLVES.
Principal Cooper regarded the mural. He nodded. He did not expect the mural to be so expertly crafted, and what's more, he did not expect it to be so appropriate in its conception. This caused Principal Cooper's head to involuntarily nod with approval.
Principal Cooper called across the gym to Jacob, "Wow, Jacob. This is really amazing."
Jacob stopped painting, and he turned to look at the principal. Jacob didn't respond immediately to the compliment. He searched the principal's facial expression for any signs of what his mother called sarcasm. When he determined that the principal's compliment was most likely sincere, Jacob said, "Thank you." He then turned back to the mural and continued working on it.
It turns out that the principal's comment was sincere, and Principal Cooper continued to admire the mural, still nodding his head. The principal then noticed that Jacob had yet to add faces to the mural's figures. Principal Cooper paused a moment, then he called up to Jacob, "Now… Now, um, Jacob, I have to ask you this. What kind of faces are you planning to put on those figures?"
Jacob said, "Not sure yet."
The principal said to Jacob, "I mean… you have a talent for caricatures. There won't be anyone we know drawn up there, right?"
"No."
The principal smiled and said, "Good. That's good." Then the principal was nodding again, and he was saying, as if to himself, "This mural is truly great, Jacob. Truly great job."
Continued in: With Drawn: Part 23 — Unseen Barriers